Welcome to Our Home
Hello there! Don't you just love our pirate ship? We are ALL about pirates around here! Need proof? Just read this.

Are you back? Might as well come in and have a look around. See the wreath? I made that myself - pretty impressive huh? I guess I should probably mention that I worked at Michael's at the time and had the floral designer coach me through it. Bygones :)

This is one of my Nativity sets - I do have a more traditional one but I do love my snowmen!!
Don't you just love that poinsettia? I bought that one at Sam's Club - it was a steal at $16.88!! And that cute snowman is from Lowe's - he is simply adorable!
Here are the most adorable people in the world. Logan (on the left) is 3 and Noah is 3 months old. They keep me very busy! Noah is having tubes put in his ears on Wednesday morning - we are praying that the surgery will help with his hearing.

The last pictures show some of the snowmen that are scattered throughout the house. I am trying to resist buying some for the next couple years. Maybe I'll try to get some more Santa's. We'll see ;)


Don't you love the "extra" decoration in the above photo - do you see it?
Thank you so much for stopping by! I'll leave you with one of my favorite and super simple recipes.
Cream Cheese Cookies
1 (8 oz.) pkg. cream cheese, softened
1 box cake mix (any flavor, our favorite is strawberry)
1 egg yolk
1/4 cup butter, softened
1/4 tsp. almond or vanilla extract
Mix all ingredients together. Chill dough for at least 30 minutes. Preheat oven to 375*. Roll dough into 1" balls - place on cookie sheet. Bake for 10-12 minutes or until edges are slightly browned. Let cool and try not to eat them all in one night!
If you would like to share your home or view the homes of others on the tour just follow this link: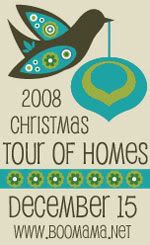 Ok - I can't let you go without showing you the latest video of Logan. This was taken Sunday morning. As some of you might know we have been hit with a massive snowstorm (our high temp today was -9* without windchill....NEGATIVE 9*!!). It was so bad that they didn't even open the bookstore that I work at. I don't think that has ever happened. Listen to how he says blizzard - too funny!
Don't forget to sign the guestbook on your way out!